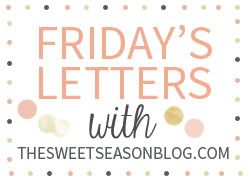 Dear Flu/Unrelenting Cough, I hate you. Seriously I just can't catch a break over here. I'm glad the fever part is gone but I feel like I haven't got a single bit of sleep in days because of the coughing. And I sound like a man.
Dear Husband, I'm sorry that you haven't gotten much sleep the last few days either. Thank you for going to my doctors appointment with me yesterday and carrying all of the groceries today. But no, I would not like another nasty herbal lozenge or to have to stand over a pot of boiling water. And just because the world wide web says xyz is a home remedy for a cough doesn't mean that they're all true.
Dear Readers, You're all awesome. I appreciate every single one of you! Do you have any tried and true home remedies for a dry cough?
Dear Evy, Thanks for not trying to be born while I had the flu, that would have been way too much to handle. Sorry that my belly squishes you every time I cough. But it really doesn't help when you try to squish my lungs back.
Dear Cable, Thanks for entertaining me while I'm stuck at home. I don't know how we went without you for three years.