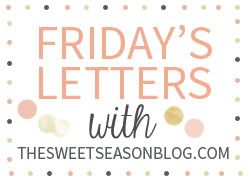 Dear Evelyn, Sweet baby girl me and your daddy really need you to stay put for at least another month (or more) so that when you come into the world you'll be more ready for it! We want to be able to stay with you every minute after you get here and don't want to watch you struggle.
Dear Labor & Delivery at TMC, Thank you for taking care of me and making sure I knew that coming in was the right thing to do.
Dear Husband, You are absolutely amazing. I don't think I could say enough great things about you right now. You have been so supportive and sweet through all of this pre-term labor drama this past week. Thank you for driving me to the hospital in Friday 5 o'clock traffic and then again a few days later at 4 am. You are going to be the best daddy to our little girl. I can't wait to see you in that new role. I love you forever.
Dear Tucson, Stop being cold, rainy, and cloudy. You're a desert. I want sunny 75 degree weather already.
Dear doggies, I'm sorry that you two haven't been getting much attention lately. I'll try to give you some lovin' and park time this weekend.
Dear Bountiful Baskets,
I am so excited to go pick you up tomorrow morning. Fifteen dollars for tons of locally sourced fruits and veggies? Yes please!